📈There is no surprise that the Roseville Real Estate Market has been on the climb, just as many other Twin Cities Markets have been as well.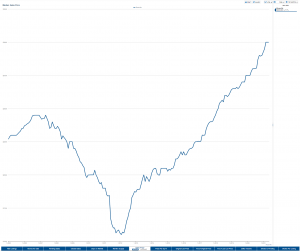 Looking as far back as we can in the MLS for data, in May 2007 we saw Roseville Median Sale price go up to $245,000 – then a slow decline all the way down to $155,000 in 2012 (where is the crystal ball when you need one).
Since the market crash in 2012, we have seen year over year gains in Roseville home prices. Currently, our Median Sales Price in Roseville is $300,000 – that is $55,000 higher than any years previous peek.
🚨Inventory levels are at a 15 year low in Roseville, hence the staggering increase in median price. With interest rates being historically low, the Roseville real estate market has seen demand like never before.
🏡If you have considered selling or would even like to know what your home is worth in today's current market, click learn more to get an instant home valuation 💻
Worried about finding the next home if you sell? No problem, we have strategies to put you in the driver's seat.